March to April 2020
Updated UL, SEC, KS and ISO certifications.
A System integration provider based in US will be testing Ferraris Tolenoid C® (contactless power supply) to its intelligent sensors on a smart grid monitoring network. we have completed provision of preliminary spec customized sample product in april 2020 and will be providing secondary spec products in may 2020 for the tester. Ferraris will be monitoring the result of the test with high expectations. Dr. Koo assures that the Ferraris products will easily outperform tester's expectations in power performance.
Conferences and Q&As with UK, China based companies relating to Ferraris products.
Under discussion with Korea based company relating to investment and Korea marketing.
Under initial meeting for Busan, Yeosoo and Choonchun Smart City about HD Camera + TVWS (Adaptrum) + Ferraris products - KOREA.
Under discussion with Local Government for School Zone monitoring and Mountain Fire Monitoring System - KOREA.
Under discussion with an Electric golf cart (small size EV car model) company for EV charging system using Ferraris ERR System - KOREA.
February 2020
EPRI Engineering Team expressed strong interested in Ferraris ERR System and its application areas. (such as EV charging, residence and market etc.) EPRI and Ferraris will have following meetings on that will be discussed US test bench with Utility and EV Bus company based on US government fund supporting. we will have meeting at end of March or early April 2020 in EPRI office. - EPRI (Energy Power Research Institute), US
Looking for battery charging system at existing power line. Interested in Ferraris Tolenoid C® contactless solution for their power line fault detection system. Asked potential solution for their product. - Franklin Electric Grid Solutions, US
Introduced Ferraris products and asked them to find proper customers and investors in WA state. WA state is clean energy state so that there are several program that supports startup and ventures. Will send details information to us to link high potential customers and investors including WA state supporting program. - Dept of Commerce at WA State, US
January 2020
Introduced the Ferraris products at the DistribuTech2020 exhibition. - San Antonio TX, US January 28 ~ 30, 2020
Introduced Ferraris ERR System and how to use or apply their application. Introduced US business model and discussed to Japan business model. - DAIKYO, JAPAN
Introduced Ferraris ERR System and hot it works. Discussed to application area and how to use another source of power source. - KYUDENKO, JAPAN
We discussed to CCTV battery charging subsystem with Tolenoid C® for Motored railroad Inspection car. They were looking for contactless charging solution inside railroad tunnel. Further discussion will be held for Singapore Power division and other applications at railroad. - Land Transport Authority, Singapore
Ferraris website reopened. www.ferrarispower.com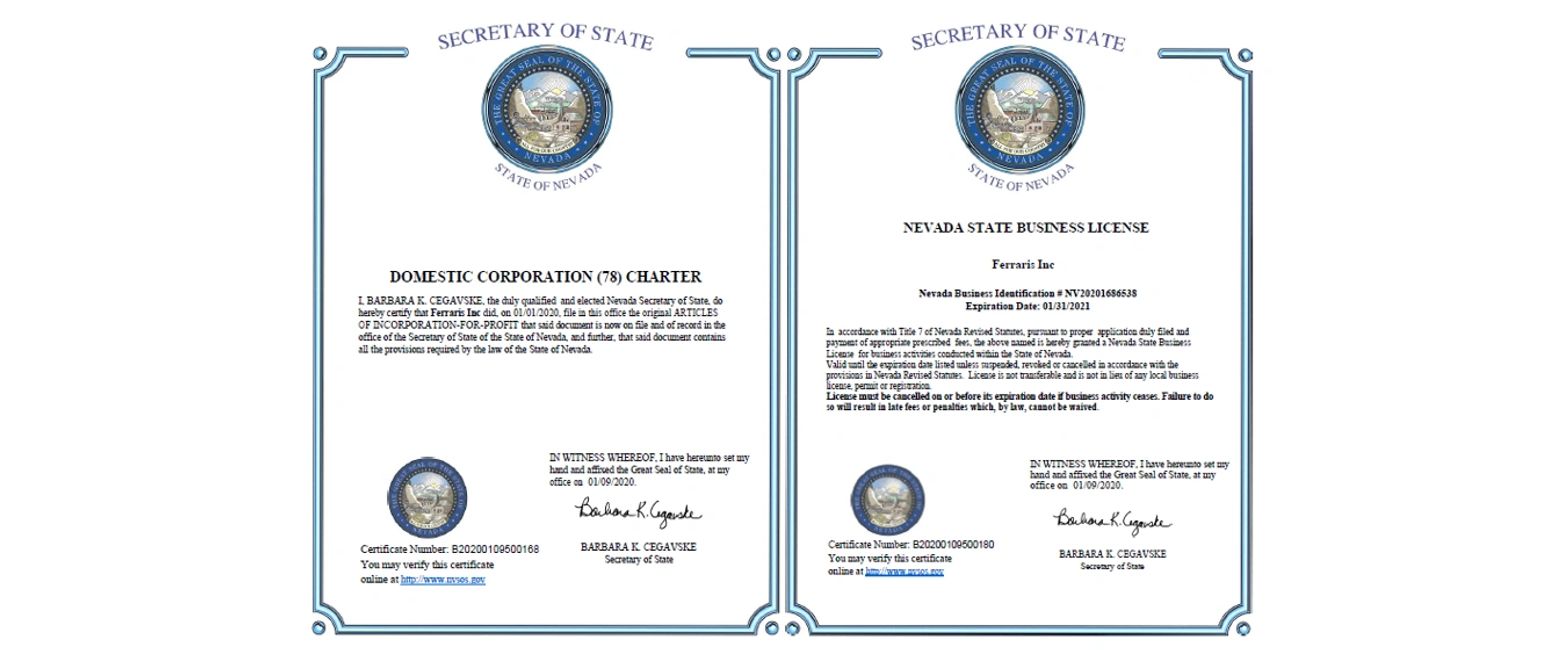 January 2020
Conversion of Corporation into a Nevada Corporation.
Sep. 2019
Tolenoid C® Supply contract related approval has been confirmed to Seoul Metro in KOREA.
Jul. 2019
Preliminary analysis for Ferraris ERR System installation are being discussed to 7/11(marts) in JAPAN.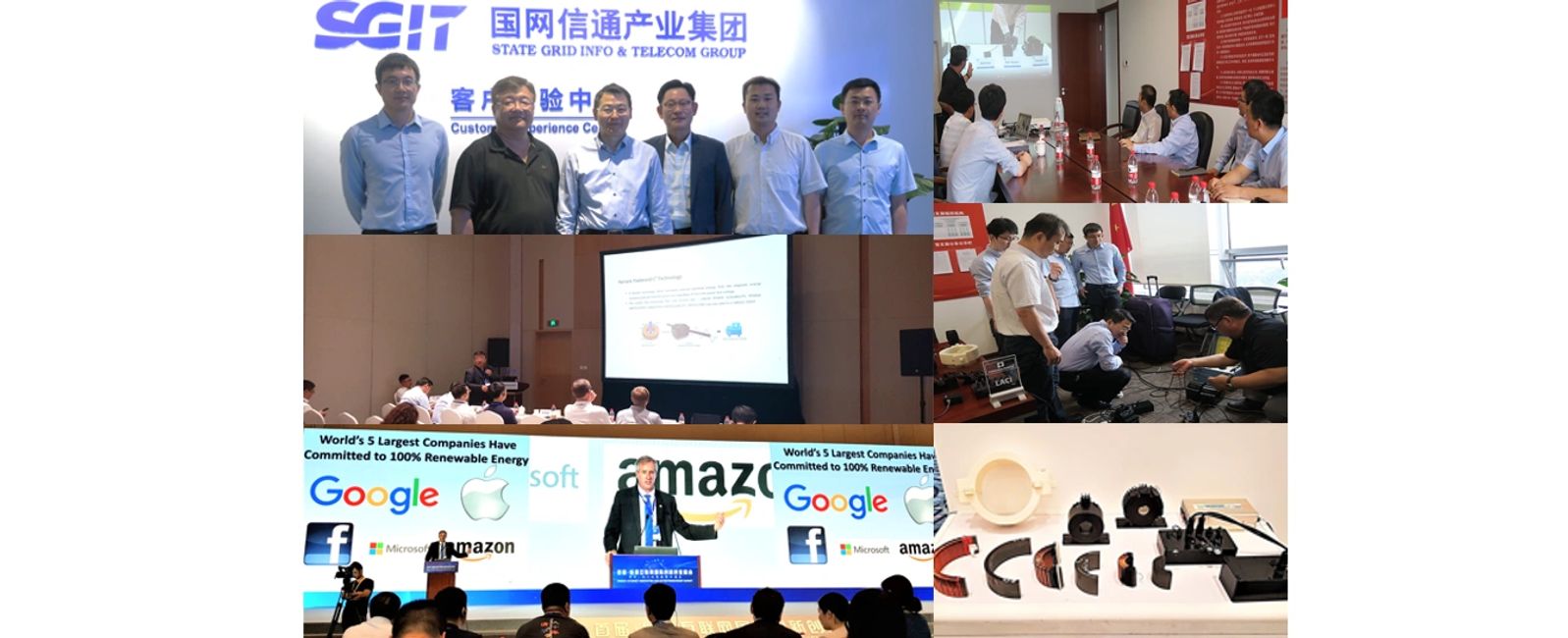 Jun. 2019
State Grid Corporation of China, State Grid Info & Telecom Group will attend Ferraris Inc. and pitch and products demo. - Beijing, CHINA June 26 ~ 28, 2019
"Energy Internet Innovation and Entrepreneurship SUMMIT" will attend Ferraris Inc. and pitch and products demo. - Chengdu, CHINA June 10 ~ 13, 2019
May 2019
"Power supply for automatic sectionalizer fan & LED system (KEPCO SW/TR Box)" based on Tolenoid C® to be supply for KEPCO SPC.
"Monitoring system for distribution power line" based on Tolenoid C® (infrared sensor and LTE-R system) to be supply for ECO and Seoul Metro.
Apr. 2019
2nd Securities exchange has been executed between Ferraris Inc. and Ferraris Power Co., Ltd.
Feb. 2019
Introduced the Ferraris products at the DistribuTech2019 exhibition. - New Orleans, US February 5 ~ 7, 2019
Jan. 2019
Started SANDBOX pilot project with Energyijos skeirstymo operatorius. - Republic of Lithuania
Plant and Institute relocated to Daedeok Daejeon.
Oct. 2018
Outstanding investment of USD 0.9 MIL from J&J Invest.
Sep. 2018
The Ferraris ERR System (1st, 2nd enhanced product version) were Beta- tested with Korea Midland Power Co. Ltd. (Power generation facility) between March 2016 and September 2018. The result showed the temperature and the quality of power line of power generator were not affected and did not show any significant changes. More details on operating result & performance can be reviewed in the document: page 27 to 33 of "Introducing Ferraris ERR System".
The Ferraris ERR System (3rd enhanced product version) customer-tested runs in company "A"(Manufacturing sector) between January 2018 to September 2018. The results of the test showed that the factory operation was at its stable and optimal capacity without any impact of their normal operation, and electricity costs were significantly reduced.
Aug. 2018
Apr. 2018
Outstanding investment of USD 1.7 MIL from a Private investment association.
1st Securities exchange has been executed between Ferraris Inc. and Ferraris Power Co., Ltd. which resulted in transferring the right of management to Ferraris Inc.
Jun. 2017
Dec. 2016
Apr. 2016
Plant be built in Seongnam Korea.
Mar. 2016
Installed of pre-production.
Dec. 2015
Jun. 2015
Outstanding investment of USD 7.3 MIL from Value Investment Korea.
Mar. 2013
Tolenoid C® develop and Certificated ISO 9001